As a charity, the RNLI relies entirely on donations. Your support ensures they can maintain a 24/7 lifesaving service around the coasts of the UK and Republic of Ireland. Their volunteer lifeboat crews and lifeguards couldn't do their vital work without individuals, organisations and companies holding fund raising events and making both lifetime and legacy donations
Every penny raised will go to the RNLI to help them achieve their vision of ending the preventable loss of life at sea.
If you would like to see the team on the day, here's when they plan to arrive at each of our offices: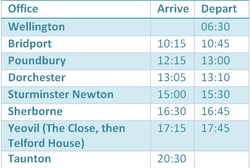 Follow our riders' journey on our blog pages.