Clarity in a complex world
Our first job is to get to know you and what you want to achieve, so we can plot the legal course that's right for you. We'll explain the issues and your options in everyday language, and recommend the route that gives you the best outcome. You'll be confident that whatever decision you take, it's based on sound legal advice and is in your best interest.
We 'CARE' about you
You take for granted your legal advisor's knowledge of the law, but you will have your own expectations of what you want from them. Our aspiration is to be your trusted legal advisor, someone who you know understands you and your needs and is working with you to achieve what you want. This is what we do: we take time to listen to you and to build the relationship. What this means in practice is that you can expect to benefit in the following ways:
C

ommunication – Clarity on costs, what is/is not included, plus regular updates;

A

ccessibility – A personal service provided by one person (supported by a small, named team);

R

esponsiveness – A determination to get on with the work as quickly as possible;

E

xplanation – Use of plain English to tell you what you need to know (including risks for you) and giving clear advice where you need to make decisions.
Service proven by feedback
We want our clients to be completely satisfied with the work we do for them, so we actively encourage feedback. They consistently tell us they are happy: year after year, 94-96% of those providing feedback say they would use us again and/or recommend us. You can find out what our clients say about us by looking at the testimonials.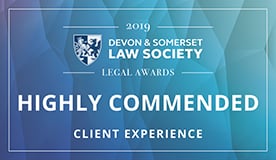 Motivated, client-focused, experienced staff
In achieving our Investors in People accreditation, we received independent verification that our people are motivated and client-focused. You can find out more about our staff's experience on our people pages.
The benefits of choosing a regulated firm of solicitors
Porter Dodson LLP is regulated by the Solicitors Regulation Authority ('SRA'). Our clients benefit from this in the following ways:
High standards. Like all SRA-regulated firms, we have to follow their code of conduct;
A robust complaints procedure, plus access to the Legal Ombudsman and SRA if this does not resolve the issue;
Client protection. We have compulsory insurance and access to the Solicitors Compensation Fund in the unlikely event we get something badly wrong and our clients suffer financial loss as a result.