#LoveDorset - An interview with Ford Farm
It was absolutely brilliant meeting Martin Crabb from Ford Farm. From having a tour of the factory to seeing their fantastic onsite cave which was rendered in 2012. It's hard to believe that a factory of that size which ships their cheese across the globe is right here Dorset.
When did you join the business and why?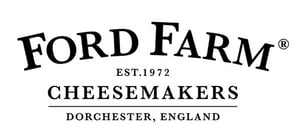 I joined Ford Farm in 1983 for a summer job. We had 6 employees and there were 27 farmhouse cheesemakers in Dorset, most of which were started after the war to counter food shortages and make use of the milk. I'd grown up on a farm in Dorset, in Burton Bradstock, and was looking for a job away from our own family farm. In those days, Ford Farm was truly a family business, run by the Pullins of Ford Farm and the Littmans of Ashley Chase.
In 1998 I became Manager of the Cheese Dairy, and in 2002 I became Operations Director. Until a few years ago I did all the grading. I have been asked many times over the years to judge cheeses, but have declined. I know how our cheeses should taste and that is what is important.

Tell us about the history of cheese making in Dorset
After the war, lots of farmhouse dairies made cheese with their own recipes. Most of them were within 80 miles of Wells and they transported their cheese to a disused factory there (owned by Cow & Gate) for storage as it was refrigerated, hence the name Cathedral Cheddar. All the farms believed their own recipes were the best, because of this the cheese lacked consistency. The facility was taken over by Unigate, who moved production to Cornwall and resulted in a large number of cheese makers closing down. Those that survived were taken on by Pilgrim Choice who had a storage facility in Wincanton, but this closed down after 10 or 15 years.
There are now only four Farmhouse Cheese Maker Association members in the region, these are Ford Farm, Barbers, Keens and Alves.
In 2010 Ford Farm sold their production to Barbers. It continues to be run by Ford Farm and produces top quality cheese. 158 Dorset and Somerset farms supply milk to Ford Farm and Barbers, with the milk mostly staying in the county where the cows produced it.
With small scale production, the milk can affect the taste of the cheese, but as you scale up production this differential is removed. Ford Farm uses 60,000 litres of milk a day so the effect is minimal. When scaled up to Barber's volumes of 800,000 litres a day, there is no noticeable difference caused by the origin of the milk.
What is your best selling product and what makes you and your product special?
Coastal cheddar. The salt has to be distributed evenly over the cheese or it will go green in the middle. This is known as 'green spot'. Demand in the US is huge, with us exporting 2,500 tonnes per annum. 70% of cheddars are now made with a sweet recipe, which originates from Alpine cheese. Production there takes places only in the summer months when the cows have been grazing on flowers.
What is the environmental impact of cheese making?
The cheese making industry is very much consumer driven and much of the packing can't be recycled. It's tightly packed in plastic to prevent bacteria growth, and many cheeses also have a wax outer shell which can't be recycled as it is petroleum based. It's also placed in plastic trays for sale in supermarkets. These trays, typically made of 90% recycled materials, are fully recyclable until the label is added.
Some are vacuum packed in a double layer of nylon and polyethane. The two materials are bonded together so they can't be recycled.
We've been working with a major supermarket to make their trays recyclable, and have also developed a black film that can be picked up by scanners and can therefore be recycled. We've also campaigned to have the product details in a bar code that can be scanned by mobile phones so that we don't have to add the label, but like I said, we are hindered by consumer demands.
Can you tell us about an notable challenges/successes?
Anticipating what will happen next month. We need to ensure that none of our cheeses leave the UK under an EU passport which is invalid by the time the ship arrives at its destination. For this reason, we don't plan to have any cheese on the water during the transition period.
Last year our Cave Aged Goats Cheese won Super Gold at the World Cheese Awards. Our cave aged cheese was originally matured in the caves at Wookey Hole but in 2012 we built a cheese cave here on site. It's the first of its kind and we're really proud of it.
What are your plans for the future?
Since I joined the company, we've grown considerably and now have 147 employees. We export to the USA, Japan, Korea, Australia, Singapore, China, France, Iceland, Germany, Denmark… the list is endless.
What's the best thing about living in Dorset?
Everything! It's brilliant, right next to the sea, peaceful. There's nothing to move away for.
Authors note:
We had Ford Farm's Coastal Cheddar at our staff #LoveDorset tasting evening. Here is what the staff thought of it:
Chartered Legal Executive, Lisa Payne says, "It was one of the best strong cheddars I've tasted, if I were a mouse I would have eaten the whole block! I will certainly be purchasing some"
Legal Secretary, Clair Grimster says, "for me, it was a perfect cheddar with a nice crumble to it and it didn't leave an aftertaste. I could have eaten it all evening with the cheese biscuits and tomato chutney. I shall certainly buy some"